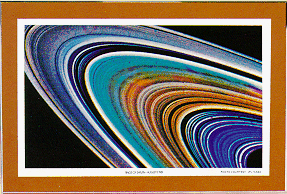 "Rings of Saturn - August 17, 1981"
The "Rings of Saturn" - perhaps the single most amazing feature of our solar system, reaching almost 200,000 miles across.
Originally thought to be only three sections, Saturn's rings are now revealed by the color cameras of Voyager 2 actually to be thousands of fine ringlets, composed of countless small chunks of ice only a few inches to a few feet across. They are extremely cold and possibly composed of frozen water and other ices.
Dramatic differences in Saturn's rings are revealed by these computer-enhanced colors. The six known rings are actually composed of hundreds of tiny, thin ringlets with intervening spaces, so that the whole ring system looks like the grooves in a phonograph record. Even the Cassini division, once thought to be empty space between the A and B rings, contains several dozen ringlets.The thin outer F-ring is composed of three distinct but intertwined ringlets. This braided ring structure is very difficult to explain.
This spectacular computer-enhanced photo reveals God's own intricate artistry in colorful detail never before imagined. This historic photo from Voyager 2 should enhance any home or office decor.
---
"Received my print. Now I truly know the meaning of the phrase "out of this world!". Thanks for making it available. It should be in every schoolroom around the world. Thanks also for packing it so carefully - it arrived in perfect condition. I hope to order others in the near future. Thank you again for a beautiful print." - V.J.N., Howell, NJ
---
To see a list of our Full-Color prints, see our Products Page.
To view some comments from our customers, check out our Testimonial Page.
For an overview of our Web Site, go to the Table of Contents.
To search our entire Web Site for any text, go to the Text Search Page.
To place an order or receive a brochure, go to our Order Form.
---
Woodstock Products Inc.
P.O. Box 2519
Beverly Hills, CA 90213-2519
323-650-6602
info@WoodstockProd.com