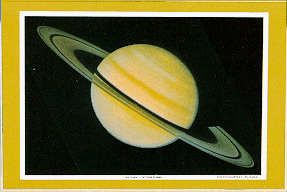 "Saturn - October 1980"
"Full Saturn" - the spectacular ringed planet Saturn is one of the most beautiful and unique objects in the entire sky. This magnificent view was beamed to Earth by Voyager 1 from almost 1 billion miles!
Saturn's rings, a landmark of the solar system, seem solid, but are made up of innumerable particles of water ice and frozen ammonia, from an inch to a few yards in size. The diameter of the rings is almost equal to the distance from Earth to the Moon.
Saturn's frigid cloud tops, below a haze of frozen ammonia, have a temperature of -330° F. Turbulent belts and streams of clouds stretch east-west across the planet. Cloudy jet streams move near Saturn's equator at nearly 930 miles per hour, four times faster than the winds of Jupiter.
For the first time in history, man has had an "eye in deep space", roving among the planets, sending back clear, color photos of other worlds never visited before. This large, 34" x 22" full-color print of Saturn makes it seem as though you were peering out the window of your very own space ship!
Be among the first to display these new "windows-onto-space" in your home and office. Order the collection and give away several to friends!
---
"It is indeed a great pleasure to see the new addition - that of the planet Saturn - to your picture gallery of celestial objects. Simply wonderful!!" - Prof. V.D.S., Dhule, India
---
To see a list of our Full-Color prints, see our Products Page.
To view some comments from our customers, check out our Testimonial Page.
For an overview of our Web Site, go to the Table of Contents.
To search our entire Web Site for any text, go to the Text Search Page.
To place an order or receive a brochure, go to our Order Form.
---
Woodstock Products Inc.
P.O.Box 2519
Beverly Hills, CA 90213-2519
323-650-6602
info@WoodstockProd.com