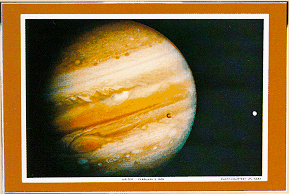 "Jupiter - February 5, 1979"
"Full Jupiter" - the colorful titan of our solar system is here revealed in its majestic beauty for the first time, through the eyes of Voyager 1.
Big enough to hold 1400 Earths and almost 2.5 times more massive than all of the other planets put together, Jupiter is a huge, rapidly spinning, colorful ball of cold gases - mostly hydrogen and helium, with a little methane, water, and ammonia. It spins on its axis in less than half an Earth day. For perspective, Io, the moon on the left, is 1100 miles in diameter, about the same size as Earth's Moon, as is Europa, on the right.
Clearly photographed from 17.5 million miles, Jupiter, its Great Red Spot, and moons Io and Europa are stunning in their far-away, celestial splendor. Revealing much more detail than the finest Earth-based photo, this outstanding quality 34" x 22" print from Woodstock Products will bring to your home the infinite beauty of deep space. Order Today!
---
"Over the past few years, I've obtained from you, much to my great satisfaction, Earthrise, Martian Sunset, and Full Jupiter. I've framed the prints in metal frames utilizing non-glare glass and displayed them in my 8th grade science classroom. Needless to say, they are very stimulating in any setting. Thank you." - T.R.S., Las Vegas, NV
---
To see a list of our Full-Color prints, see our Products Page.
To view some comments from our customers, check out our Testimonial Page.
For an overview of our Web Site, go to the Table of Contents.
To search our entire Web Site for any text, go to the Text Search Page.
To place an order or receive a brochure, go to our Order Form.
---
Woodstock Products Inc.
P.O. Box 2519
Beverly Hills, CA 90213-2519
323-650-6602
info@WoodstockProd.com